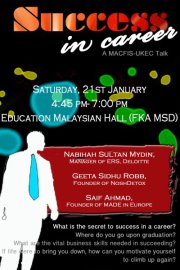 The video recording for the Success in Career talk is now available! However, we apologize beforehand for the technical difficulties we faced that night: as a result, our recordings got cut off at random times.
For those who attended, thank you so much for making our event a success. For those who couldn't make it, we really hope to see you guys at our next project 🙂
Watch the recording here: http://www.dailymotion.com/video/xnyv76_macfis-ukec-success-in-career_school
Want to skip the formalities?
Nabihah's talk begins at 7:25
Geetha starts at 12:10
Saif talks from 23:30